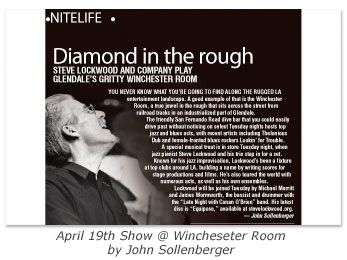 04.19.11
Show @ Winchester Room
"Diamond in the Rough
Steve Lockwood and Company
Play Glendale's
Gritty Winchester Room
YOU NEVER KNOW WHAT YOU'RE GOING TO FIND ALONG THE RUGGED LA entertainment landscape. A good example of that is the Winchester Room, a true jewel in the rough that sits across the street from railroad tracks in an industrialized part of Glendale. The friendly San Fernando Road dive bar that you could easily drive past without noticing on select Tuesday nights hosts top jazz and blues acts, with recent artists including Thelonious Dub and female-fronted blues rockers Lookin' for Trouble. A special musical treat is in store Tuesday night, whenjazz pianist Steve Lockwood and his trio stop in for a set. Known for his jazz improvisation, Lockwood's been a fixtureat top clubs around LA, building a name by writing scores forstage productions and films. He's also toured the world with numerous acts, as well as his own ensembles. Lockwood will be joined Tuesday by Michael Merritt and James Wormworth, the bassist and drummer with the "Late Night with Conan O'Brien" band. His latestdisc is "Equipose," available at stevelockwoodmusic.com (updated). — John Sollenberger"
Downlaod PDF of John Sollenberger's write up in the Pasadena Weekly here.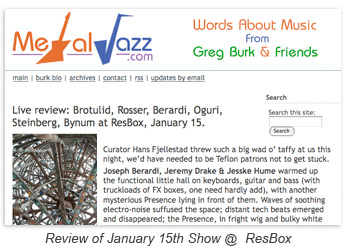 Review from 01.15.09
Show @ ResBox
"Curator Hans Fjellestad threw such a big wad o' taffy at us this night, we'd have needed to be Teflon patrons not to get stuck.
Joseph Berardi, Jeremy Drake & Jesske Hume warmed up the functional little hall on keyboards, guitar and bass (with truckloads of FX boxes, one need hardly add), with another mysterious Presence lying in front of them. Waves of soothing electro-noise suffused the space; distant tech beats emerged and disappeared; the Presence, in fright wig and bulky white mummy wrap, swatted flies, spazzed awake and slowly rose. Bursts of synth noise shot through Drake's feedback; bass and oscillators moaned. The derelict Presence, who turned out to be the amazing butoh dancer Oguri, agonized into a glacial zombie walk. Despite the talents of all concerned, it didn't quite come together, largely because the staging worked against Oguri, who must have wanted to see what effect he could produce when maximally hobbled: the wrapping, the wig and the indirect lighting kept us from observing the infinite gradations of his movements and the incredible distortions of his face. Maybe he was commenting on homelessness by evicting himself artistically.
A parallel quartet next grabbed the stage: guitarist Ken Rosser, keyboardist Stephen Lockwood, flutist Ellen Burr and dancer Roxanne Steinberg. And the communication flowed, especially between Steinberg and Lockwood, who had set up his Kurzweil so he could face her action and respond with melodic commentary, Cecilian intensity and even a segment on hand drums and" . . . continue reading
Visit www.metaljazz.com to see entire review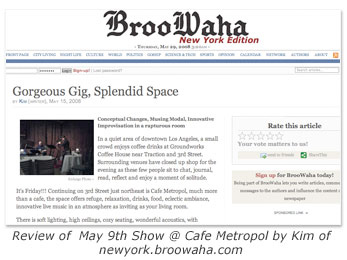 Review from 05.09.08 Performance @
Cafe Metropol
"Conceptual Changes, Musing Modal, Innovative Improvisation in a rapturous room"
In a quiet area of downtown Los Angeles, a small crowd enjoys coffee drinks at Groundworks Coffee House near Traction and 3rd Street. Surrounding venues have closed up shop for the evening as these few people sit to chat, journal, read, reflect and enjoy a moment of solitude.
It's Friday!!! Continuing on 3rd Street just northeast is Cafe Metropol, much more than a cafe, the space offers refuge, relaxation, drinks, food, eclectic ambiance, innovative live music in an atmosphere as inviting as your living room.
There is soft lighting, high ceilings, cozy seating, wonderful acoustics, with excellent visibility of the stage and opportunity to engage in quiet conversation.
A fresh and invigorating variation awaits with each visit to Cafe Metropol.
What sets this spot apart is the live music and on May 9th, the Steve Lockwood Trio performed myriad complex pieces that took the audience from whispering waves to off the chart improvisation.
Steve Lockwood on Piano
Ellen Burr on C-Flute and Alto Flute
Ken Rosser 0n Guitar
The evening was interwoven with original compositions that soothed, sparked, immersed, clothed, and colorfully enveloped us in its aura.
The trio began with 2 tunes by Ken "Cipher" and "Joan & Pablo" both pieces filled with varied changes in the feel and form. There was a little of everything from opaque to translucent with a little improvisation.
"Spanish Waltz" composed by Steve was an energized piece full of soul and "12 x 2 x 5" had a grooving tone. Steve appeared in perfect bliss at the piano. An ardent thrill emerged from faces of Ellen and Ken in a soul tie with Steve on their instruments as well.
"Sad Joy" by Steve appeared to convey emotions of love in every circle.
Ellen's sensitivity and awareness on C-Flute and Alto Flute was magical and mammoth in skill, connection, and range.
She displayed her ingenuity on "2 Improvisations" coupled with inspiration and beauty in tone, on "Snowflake Harmony", canny and wit on "Sizes". All these picks were composed by Ellen.
Throughout the night we were soaked in a musical voyage. Cafe Metropol is a splendid space that bids us convincingly to bask in the moment. Welcoming service, alluring attention, and comfort for the body and spirit.
The night proved the perfect preparation for the weekend."
Visit www.broowaha.com to see review.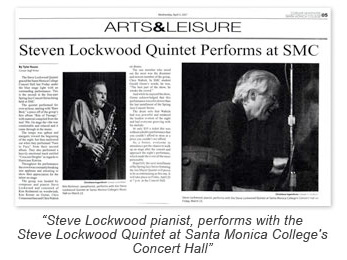 Review excerpt from Santa Monica Coll. Concert 3.07.07
"……The Steve Lockwood Quintet graced the Santa Monica College Concert Hall last Fast Friday under the blue stage light with an outstanding performance……
The quintet performed for over an hour, starting with "Rare Bird," a piece off of the group's first album "Rite of Passage," (an album) with material compiled from the mid '90s. On stage the vibe was comfortable and relaxed and it came through in the music.
The tempo was upbeat and energetic toward the beginning of the night, but then mellowed out when they performed "Face to Face" from their second album. They also performed a heavily emotional track entitled "Crescent City Blues Part 2" featuring guitarist Ken Rosser. (The piece is an excerpt from a new dance/theatre piece that Steve composed called "New Orleans Lowdown").
The group…….consisted of Kim Richmond on woodwinds, Ken Rosser on Guitar, Chris Conners on bass and Chris Wabish on drums.
The one member who stood out the most was the drummer and newest member of the group, Chris Wabish. In SMC student Gerald Green's words, he was, "The best part of the show, he awoke the crowd."