L.A. Flute Guild, Mount Olive Lutheran Church, Ellen Burr, Piano Lessons Oh My!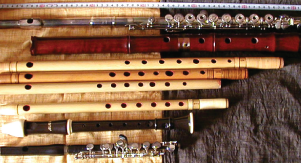 Steve Lockwood 2013 Recap is filled with a lot of great events. Opportunity knocked in the form of a commission from The Los Angeles Flute Orchestra and its conductor, Ellen Burr. The result was Los Angeles Suite for Flute Octet which was premiered May 20, 2012 at the Mount Olive Lutheran Church in Santa Monica.  It was also performed at the L.A. Flute Guild Festival at Cal State University in Long Beach on January 26, 2013.  Future Los Angeles Flute Orchestra performances of this piece are being planned.
Private teaching has expanded with the addition of Skype Video option for students living in distant locales as well as those who wish to abandon the freeways for piano lessons in the Los Angeles area.  Teaching Jazz Piano and Improvisation is certainly fulfilling now, as after over 40 years of playing and writing I have learned a few things and there is much to be given.  Soon private piano lessons in Los Angeles will expand to include Beginning and Intermediate Classical students.
Involvement in the Music Teachers' Association of California continued in March 2013th entitled "Jazz Improvisation:  What's the mystery?"  This lecture dispelled some of the mysteries of jazz improvisation by looking closer into what makes a jazz solo.  It was an interesting hour of discussion about a favorite subject of many classical musicians.